Bei der heutigen Pressekonferenz auf dem Mobile World Congress in Barcelona hat CEO John Chen die neuen BlackBerry Smartphones Z3 und Q20 vorgestellt.
Z3 für Indonesien
Bei dem Z3 handelt es sich um das erste Handset, das in Kooperation mit Foxconn in kurzer Zeit entstanden ist und speziell für den indonesischen Markt entwickelt wurde. Dort wird es im Vergleich zu den bisherigen Smartphones zu einem sehr günstigen Preis angeboten werden und soll im April starten. Es besitzt ein 5″ Display und ist mit BlackBerry 10.2.1. ausgestattet. Aktuell ist nicht geplant, das Gerät auch nach Europa zu bringen.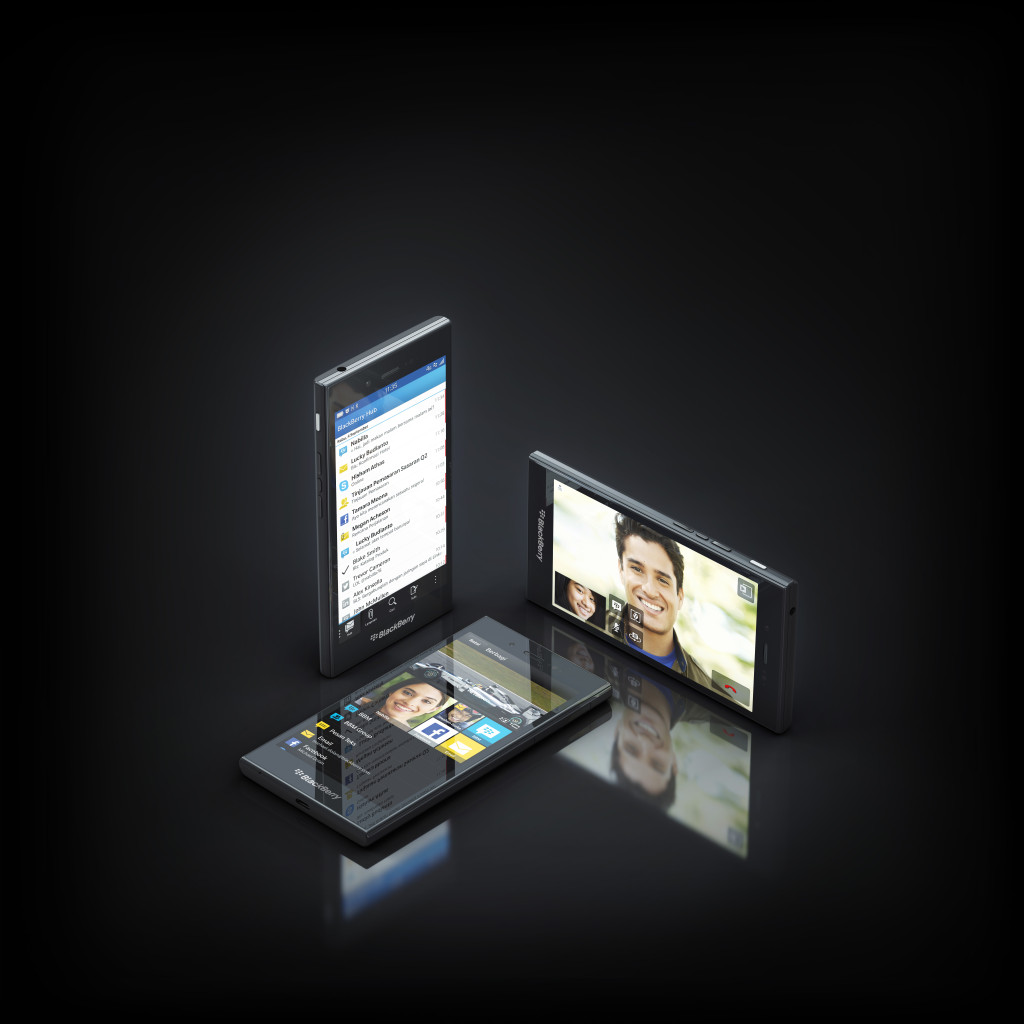 Q20 bringt Trackpad wieder zurück
Für uns deutlich interessanter ist die Ankündigung bzw. der Paper-Launch des Q20 "Classic". Als neues High-End Gerät im BlackBerry 10 Geräte Portfolio wird es die von älteren Geräten bekannte Tastenreihe mit Anruf-Tasten, Zurück- und BlackBerry-Taste wieder aufleben lassen, genauso wie das Trackpad. Zusätzlich soll jedoch auch die Bildschirmdiagonale von 3,1″ des Q10 auf 3,5″ beim QWERT-Q20 anwachsen. Wir sind gespannt, wie BlackBerry das Gerät schlussendlich designt, aktuell gibt es keine Bilder oder nähere technische Spezifikationen. Womöglich wird es sich gegenüber dem Q10 deutlich in der Länge strecken.
John Chen sagte, dass es viele Kunden gibt, die die Forderung nach dem "alten" Design der BlackBerrys gestellt haben und man sich deshalb für dieses Gerät entschieden habe. Das Q20 soll bis zum Ende des Jahres erscheinen. Das ist viel Zeit, die zwischen der Ankündigung und der Auslieferung stehen. Immerhin sagte John Chen in einer an die Pressekonferenz anschließenden Fragerunde, dass auch für diese Jahr noch weitere High-End Geräte geplant seien.
Mit dem Q20 will man nun auch den letzten Nutzer eines Bold 9900 auf die neue Plattform mitnehmen. Man kann dabei durchaus geteilter Meinung sein. Viele haben sich bereits an das BB10 Design gewöhnt und vermissen auch nichts. Eine offensichtlich ziemlich große Gruppe weiterer Nutzer wünscht jedoch auch weiterhin mehr Hardware-Buttons und ein Trackpad zur Navigation. Die Anpassung des Betriebssystems auf das Q20 kostet natürlich auch Kapazität, die weiteren Entwicklungen entgegen steht.
BlackBerry Introduces Stylish, 5" All-Touch BlackBerry 10 Smartphone Designed for Customers in Indonesia
BlackBerry Partnership with Foxconn Inspires the Affordable New
BlackBerry Z3 Smartphone
Mobile World Congress 2014, Barcelona – BlackBerry Limited (NASDAQ: BBRY; TSX: BB), a global leader in mobile communications, today announced the BlackBerry® Z3 smartphone, a new all-touch BlackBerry® 10 smartphone designed with Indonesian customers in mind. Made for the next generation of BlackBerry customers in Indonesia, and customized with local apps and content, the stylish new BlackBerry Z3 smartphone features a modern design with a 5" display, long lasting battery and comes with BlackBerry 10 OS version 10.2.1.
"We are excited to introduce the new BlackBerry Z3, the first smartphone to emerge from our strategic partnership with Foxconn, which was announced in mid-December, 2013," said John Chen, Executive Chairman and CEO at BlackBerry. "The BlackBerry Z3 embodies all that BlackBerry 10 offers, with its exceptional productivity features and reliable communications, in a stylish, all-touch design made affordable for customers in Indonesia."
"BlackBerry is beloved in Indonesia and its loyal fans have made it a popular smartphone brand. This is why we are so proud to be able to help bring BlackBerry even closer to Indonesia with a fantastic product that will be accessible to even more Indonesians. This is only the beginning of what we know will be a long and fruitful partnership between Foxconn and BlackBerry," said Terry Gou, Founder and Chairman, Foxconn.
The new BlackBerry Z3 smartphone is customized with access to local apps and Indonesian content and comes with the latest BlackBerry 10 OS, version 10.2.1, that will make the things you do every day faster and easier. Key features include:
 BlackBerry® Hub – The ever present BlackBerry Hub lets you access all your work and personal email, BBM™, text messages, social media updates and notifications in one place, with the ability to "peek" into the BlackBerry Hub from anywhere, so you're always only one swipe away from what matters to you. The Hub can be customized to identify priority messages and to filter the message list by various criteria that you can then activate with a simple pinch gesture.
 BBM – BBM on the BlackBerry Z3 smartphone includes all the latest features of the popular mobile social network, customized for Indonesians. You get BBM voice and video chatting with Screen Share and support for BlackBerry Natural Sound, letting you hear nuances and variations in tone in a BBM Voice chat, and making the conversation sound like you're in the same room. BBM Channels features a variety of Indonesian channels as well as a package of BBM stickers that have been specially designed by an Indonesian artist.
 BlackBerry Keyboard – The BlackBerry Keyboard learns what words you use and how you use them, then offers them up to you so you can type faster and more accurately. It gives you the best Bahasa Indonesia typing experience on a touchscreen, complete with multi-language support that lets you type in up to 3 different languages at the same time.
 Time Shift & Story Maker – The BlackBerry Z3 smartphone's astonishing Time Shift camera feature lets you capture a group shot where everyone is smiling with their eyes wide open. You can also use Story Maker to bring a collection of photos and videos together, along with music and effects, to produce an HD movie that you can instantly share on YouTube.
 BlackBerry 10 Browser – The BlackBerry 10 browser sets the industry benchmark for HTML5 performance on smartphones, and is incredibly fast, with fluid and responsive scrolling and zooming. The browser includes many advanced features, supports multiple tabs, lets you browse sites privately, includes a reader mode, and integrates with the platform for easily sharing content. You can even save web pages for later viewing.
 Instant Previews & Reply Now – Be more timely and responsive with Instant Previews that bring BBM, SMS and email message to you no matter what you are doing on your BlackBerry Z3 smartphone. You can even reply to your BBM or SMS messages in any app, or swipe to the BlackBerry Hub to respond. If you get a phone call that you can't answer right way, you can instantly silence the call and send a Reply Now response through BBM, SMS or email to let the caller know you're busy.
 Fast, Easy Sharing – The BlackBerry Z3 smartphone learns how you share and who you share with, helping you reduce the number of steps and amount of time it takes to get your files, photos, or documents to where they need to go. Touching "share" in any app provides suggestions on who and how to share your files based on who you've shared with in the past, and the feature only gets smarter the more you use it.
 FM Radio – The new BlackBerry Z3 includes a built-in FM radio. You can listen to local FM stations, which does not require any network connection.
The new BlackBerry Z3 smartphone is expected to be available from leading carriers and retailers in Indonesia in April. Further details on pricing and availability will be announced at launch.
BlackBerry Unveils New Flagship BlackBerry 10 Smartphone Designed to Deliver the Full Classic QWERTY Experience
BlackBerry Q20 to Feature the Familiar 'Menu', 'Back', 'Send' and 'End' Buttons and the Integrated Trackpad
Mobile World Congress 2014, Barcelona – Embodying feedback from its millions of passionate QWERTY customers around the world, BlackBerry Limited (NASDAQ: BBRY; TSX: BB), a global leader in mobile communications, today unveiled a new flagship smartphone designed to deliver its full and distinctive QWERTY experience on BlackBerry® 10. The new BlackBerry® Q20 smartphone will feature the familiar and classic 'Menu', 'Back', 'Send' and 'End' buttons and the integrated trackpad to enable the fast efficient navigation and one-handed use that has endeared the brand to its QWERTY customers.
"In my first 90 days on the job, I consistently heard from our ardent BlackBerry customers that the hard buttons and trackpad are an essential part of the BlackBerry QWERTY experience, that made their BlackBerry smartphone their go-to productivity tool. I want these customers to know that we heard them, and this new smartphone will be for them," said John Chen, Executive Chairman and CEO at BlackBerry. "Today, we're delighted to announce the new BlackBerry Q20 smartphone, which is designed to give you the distinct experience that every BlackBerry QWERTY loyalist and high-productivity business customer absolutely loves. With the BlackBerry Q20 smartphone, you'll get the familiar hard buttons and trackpad that you want, along with the best email service, the best keyboard experience and the best battery life possible."
The new BlackBerry Q20 smartphone will give customers the familiar workflow, efficiency and one-handed use that distinguish the BlackBerry QWERTY smartphone experience. Key features will include:
 The 'Menu', 'Back', 'Send' and 'End' buttons and trackpad will be made an integral part of the device and user interface, enabling fast, precise navigation and a natural workflow within and between apps.
 The new smartphone will feature BlackBerry's patented QWERTY keyboard design with frets and sculpted keys for the best typing experience.
 The best email service including features like BlackBerry® Hub, where you can access all your messages in one place, and enterprise connectivity with BES10.
 The BlackBerry Q20 smartphone will include a generous 3.5" touchscreen, the largest display yet on a QWERTY BlackBerry smartphone, giving you more space for viewing messages, browsing Internet and intranet sites and accessing other apps.
 The smartphone will be crafted from premium materials and designed for reliability and durability.
 A large battery to provide superior battery life.
The BlackBerry Q20 smartphone will come with the latest enhancements in BlackBerry 10 that continue to set the brand apart as the best and most secure tool for mobile productivity and reliable communications. The new smartphone will be available in the second half of 2014. Further details on pricing and availability will be announced at launch.